Strait City Trading is closed!
No more orders will be shipped. Many thanks for your business over the years!
Chain Belts, Textured Rings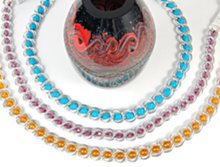 Chain belts.
All these belts present a bright gleam, a flash, a glint to accentuate movement and attract the eye.
Stippled and embossed metallic rings and decorative links.

ring and link chain belt, 1" silver rings embossed with laurel leaf pattern linked with 5/8" art deco figure eight clasps, twist link extension chain with silver ball tip
Item
Color
Size
Price
Qty
---