Possible Shipping Delays
Strait City Trading is moving a mile down the road this week and next. We expect some shipments to be delayed during the process. Posted July 29, 2020.
Fabric Belts, D-ring Solids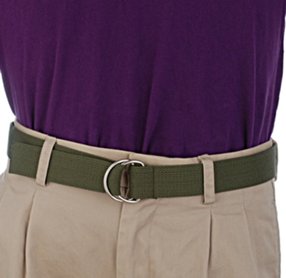 D-ring belts.
Solid color canvas belts are displayed on this page.
Our D-ring web belts are 1-1/2 inches wide and come with steel double ring buckles, some square and the rest traditional D's. We attach a metal tab for durability, but it may be removed easily. These belts are made from durable canvas, either cotton or synthetic cotton (acrylic).
Narrower, 1-1/4" wide, D-ring belts are displayed here. Heavier, stronger cotton D-ring belts are displayed here.
Sizing. Measurements refer to waist size. Actual belt lengths are 6 inches longer (give or take an inch), not counting the buckle
---