Shipping Pause
Strait City Trading will not be shipping during the two weeks starting May 9th and ending May 23rd. Email and phones will be monitored. Thank you for your business.
Men's Leather Belts, Grain Dress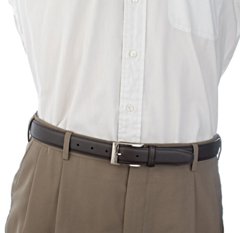 Grain Leather.
Attractive yet inexpensive men's leather dress belts with just a hint of grain.
Modern technology and globalization combine to make an attractive, serviceable leather belt available for $7. More information about the costs and benefits of budget leather belts may be found here: budget vs. premium belts.
You might also be interested in our smooth leather dress belts.
---