Strait City Trading is closed!
No more orders will be shipped. Many thanks for your business over the years!
Chain Belts, Rope Chain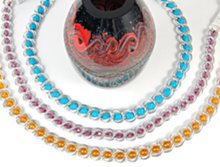 Chain belts.
All these belts present a bright gleam, a flash, a glint to accentuate movement and attract the eye.
Rope and link chain belts. Here are 3 thicknesses of rope chain, 1 thinner box chain belt, and 1 gold link chain belt. Click here for a side-by-side comparison of three rope chain thicknesses:

.
These chain belts are all "one size fits most". They are 29 inches of decorative rope or link chain with a 14 inch chain extension and heart pendant which makes them adjustable for waist sizes and wearing positions in the 30" to 40" range.
Be sure to click through the display pictures for close-up views of the chain texture!
---