Braided Stretch Belts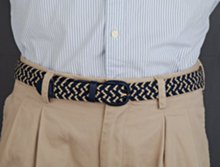 1" to 1-3/8" stretch belts. These elastic belts are simple, comfortable, and affordable. Coming in over 40 colors, widths and weaves, they are a staple for casual wear. Trimmed with real leather and braided from cords of durable fiber knitted about a dual elastic core. Available in men's, big & tall, and women's/youth sizes.
Sizing. Numerical sizes refer to waist sizes. There are no belt holes; the buckle prong slips easily into the braid:

(click to enlarge), so wear them long or short as you desire. Wear them snug, not tight; they'll hold your pants with a comfortable "give".
Select by color: Black stretch belts; Navy blue stretch belts; brown and tan stretch belts.
Also available. Military-style stretch belts:

The links below and the menu to the left will take you to displays of our products.
---