Strait City Trading is closed!
No more orders will be shipped. Many thanks for your business over the years!
Belt Scarves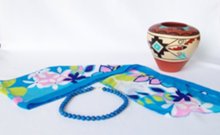 These sheer belt scarves are a long and narrow 7" by 58". Use this scarf to wrap around your head, adorn your neck, or sash whatever color about your waist as suits your fancy. They are 100% polyester with a nice "silk" feel.
The links below and the menu to the left will take you to displays of our products.
---
Catalog
---
Cheap fast shipping
$3.76 for a buckle or scarf or most belts. Save more on combined orders. Shipping details.