Leather Belt Comparison: Global Fast Fashion vs Independent USA Manufacturer
H&M the multinational fast fashion behemoth has been much in the news in 2013. They have been one of the largest importers from Bangladesh, and they were a first signer of the Bangladesh Accord on Fire and Building Safety. Fallout from the Rana Plaza collapse notwithstanding, they have been quite profitable this year.
Seeing a very reasonable price, we purchased a leather belt from HM.com recently. We paid $17.95 for the belt and $5.95 shipping which took about a week to get to us. Compare this to the PM1043 which Strait City Trading currently sells for $12.95 plus $2.95 shipping by first class USPS mail. As it stands now, the Strait City Trading belt is more belt for less money.
Here are a few photos and comments comparing the H&M belt with a made-in-USA leather belt that we market.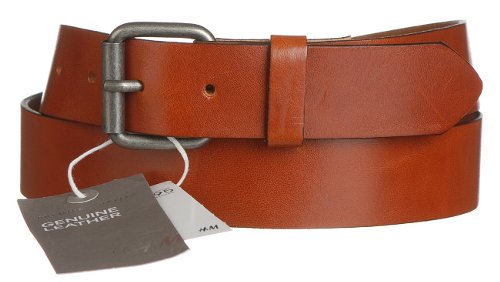 H&M leather belt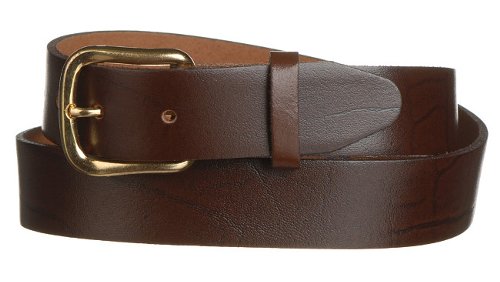 Strait City single ply leather belt
Both belts are single ply genuine leather belts. But what you can't see is that the USA belt is much firmer. This is partally because the USA belt is 11 to 18% thicker by our measurement: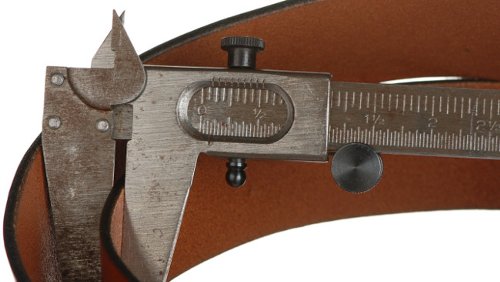 H&M leather belt about .086" thick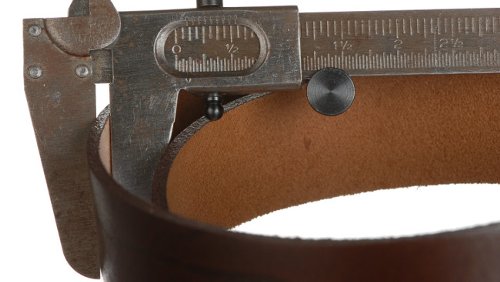 Strait City leather belt about .106" thick
Is is also because the USA belt is made from top grain leather. In these closups the H&M belt has a machined surface while the USA belt exhibits the pores and wrinkles of natural animal skin: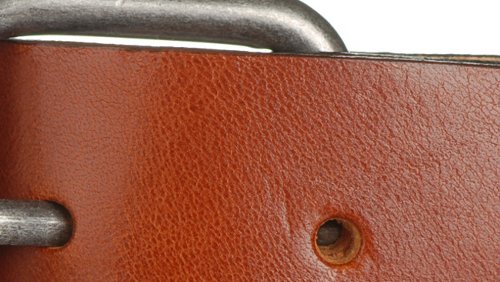 H&M leather belt made from split leather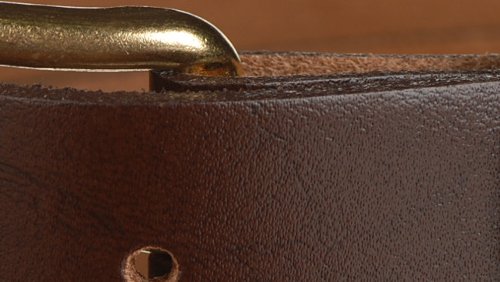 Strait City leather belt made from top-grain leather
Unlike the H&M belt, the USA leather belt buckle is snap-off. This is an additional expense for the USA belt manufacture, but it gives the customer the flexibility to replace the buckle: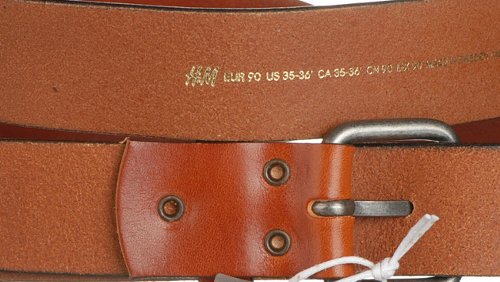 H&M belt buckle attached with rivets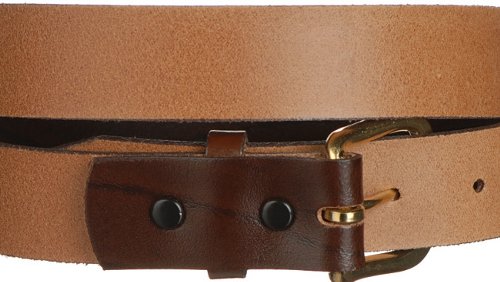 Strait City leather belt has snap-off buckle
Finally the H&M belt has a very pungent odor; not bad--probably just from the tanning process--but quite noticeable.