Cage Match: Braided Woven Stretch Belts
We purchased a braided woven stretch belt at Walmart and brought it to our studio for comparison to our own Strait City Trading Company stretch belts. Our findings? The edge goes to Walmart in retainer loops, tabbing and stitching. The edge goes to Strait City Trading Company on price, variety and availability. Look closer, and let the fur fly!
.
Buckles and Loops
The Walmart buckles

are made of iron with a burnished brass finish; Strait City Trading Company brass buckles

are made from aluminum with a polished brass finish. Both metallic buckles measure 1 7/8 inches long and 1 5/8 inches wide. In addition Strait City Trading Company also offers a leather covered buckle. The brass buckle is pictured with Strait City's sand colored elastic stretch belt while the leather covered buckle is pictured with the beige color.
The Strait City Trading Company retaining loops are simple leather straps while the Walmart loops are single stitched.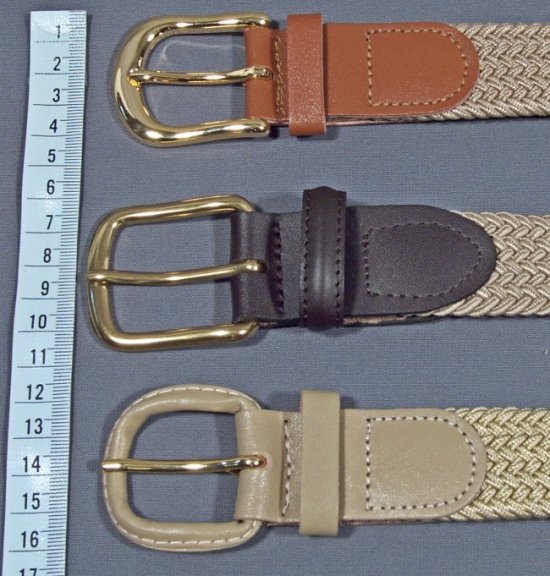 Tabbing and Fabric
There is no sensible difference in the braided fabric used in the elastic stretch belts from Walmart and Strait City Trading Company; both consist of strands of fabric woven about an elastic core which are then braided, herring-bone style and eight strands abreast.
There is a difference in the leather tabbing used at each end of belts, however. Walmart uses 1/16th inch thick leather while Strait City belts have 1/32nd inch thick leather. Moreover, Walmart uses a thicker spacer at the end and dyes the edges of the tabs. On the other hand, Strait City Trading offers a choice of tabbing colors: tan tabbing with brass buckles, other colors with leather covered buckles--beige with beige belts, for instance. The stitching on Walmart belts is more regular than on Strait City Trading belts.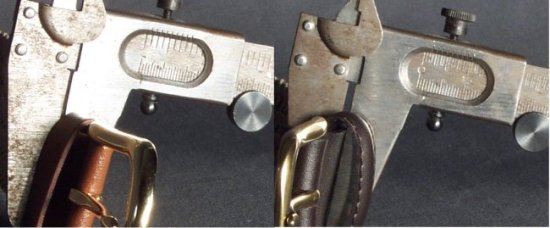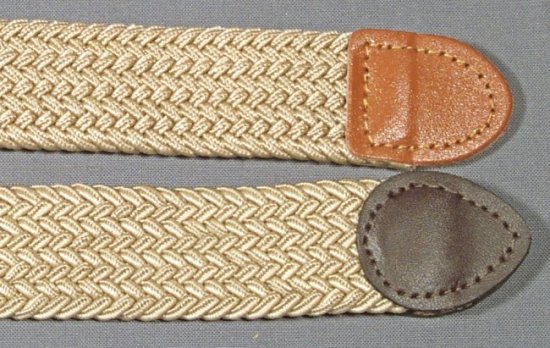 Pricing, Variety, Availability
We paid $10.56 for the Walmart elastic stretch belt ($9.96 + $.60 Michigan sales tax). Elastic Stretch Belts from Strait City Trading Company cost $7.00 (no sales tax outside of Michigan), fully 1/3 less.
We found 3 colors at Walmart (black, beige, navy blue); Strait City Trading sells 26 different colors in 1 1/4 inch wide elastic stretch belt, 14 more in 1 inch wide.
Moreover, we did not find all sizes and colors in the same spot in Walmart, and we did not find elastic stretch belts on Walmart's website. We did find Black Belt Karate in paperback when we searched for "belts" though! Strait City stocks small through XXXL in each 1 1/4" wide color, and they are all in one place.
Elasticity
One question we are often asked is what size a customer should buy. Customers want to know whether they should buy smaller sizes given that elastic stretch belts, well, stretch. In a word "no". Pictures being worth more, however, we have photographed both Strait City Trading's and Walmart's stretch belts, first in a relaxed position with no weight attached and then with a five pound weight. As in the picture, five pounds weight (much more pressure than would be comfortable), stretched each belt less than one inch.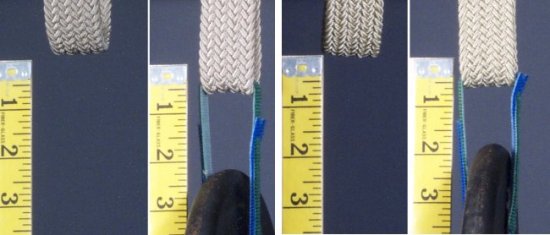 Conclusion
As with most things in life a choice between stretch belts from Strait City Trading Company and from Walmart boils down to trade-offs as illustrated in the following table.
| | Strait City | Walmart |
| --- | --- | --- |
| Price | $7.00 | $9.96 + tax |
| Tabbing | 1/32" thick | 1/16" thick & dyed |
| Retainer Loops | simple strap | single stitched |
| Buckle | Polished brass or leather | Burnished brass |
| Selection | 26 1-1/4" colors | 3 1-1/4" colors |
| Sizes | S-XXXL | ? |
Of course it may just boil down to what's convenient to a customer. There're no internet portals in Walmart, and you don't have to drive through construction to get to Strait City Trading Company. Happy shopping!