Strait City Trading will be closed Wednesday, November 22 through Sunday November 26, 2017
No shipments will be made. Email and voicemail will be checked. Happy Thanksgiving!
Men's Leather Belts, Blue Jean Belts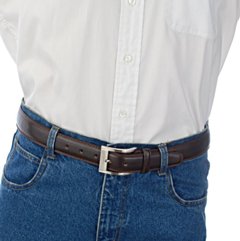 Modern technology and globalization combine to make an attractive, serviceable leather belt available for $7. More information about the costs and benefits of budget leather belts may be found here:
budget vs. premium belts
.
The belts on this page are casual belts having leather or bright metallic keepers. With bigger buckles and wider straps, these belts go well with blue jeans.

1-1/4" smooth black double stitched leather belt, 2-1/4" nickel polish buckle with stitched retainer loops
Item
Color
Size
Price
Qty


1-1/4" smooth brown double stitched leather belt, 2-1/4" nickel polish buckle with stitched retainer loops
Item
Color
Size
Price
Qty


medium wide (1-5/16" to be exact) smooth black cut-style casual leather blue jean belt, bright solid 2-1/8" x 1-1/2" hook-style brushed nickel buckle with leather retainer
Item
Color
Size
Price
Qty


medium wide (1-5/16" to be exact) smooth brown cut-style casual leather blue jean belt, bright solid 2-1/8" x 1-1/2" hook-style brushed nickel buckle with leather retainer
Item
Color
Size
Price
Qty


1-1/8" smooth black double stitched leather belt, 2-1/8" nickel polish buckle with double nickel retainer loops
Item
Color
Size
Price
Qty


1-1/8" smooth brown double stitched leather belt, 2" nickel polish buckle with double nickel retainer loops
Item
Color
Size
Price
Qty


black 1-1/4" single stitch "lambskin" grain leather belt, nickel polish buckle and stitched leather retainer loop
Item
Color
Size
Price
Qty


brown 1-1/4" single stitch "lambskin" grain leather belt, nickel polish buckle and stitched leather retainer loop
Item
Color
Size
Price
Qty


black 1-1/4" cut leather strap belt, 2" nickel polish buckle, nickel polish retainer with embossed "TOMMY"
Item
Color
Size
Price
Qty


brown 1-1/4" cut leather strap belt, 2" nickel polish buckle, nickel polish retainer with embossed "TOMMY"
Item
Color
Size
Price
Qty
---