Strait City Trading is closed!
No more orders will be shipped. Many thanks for your business over the years!
Fabric Belts, Nylon Golf Belts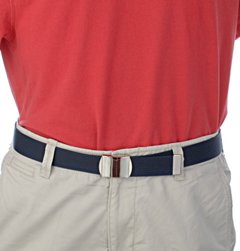 Nylon Sporting Belts.
Heavy duty nylon belts. Pleasing ribbed texture. Wicks moisture away to stay cool.
No-slip swivel-top nickel polish buckles are available on these belts. No roller pin to fumble with: open by slipping thumb under buckle, and lock by pressing buckle face with fore-finger.
Buckle face rotates to accept belt end.
Belt tip slips through.
Buckle rotates back to lock belt in place.
Sizing note:
Indicated sizes are total belt strap length. Buckles clamp on. Remove and trim belt strap to desired length.

ink black nylon sports belt, 1-1/4" wide, ribbed construction, choice of fliptop buckle and matching tip, size is total strap length, cut to fit
Item
Color
Size
Price
Buckle
Qty

timber wolf brown nylon sports belt, 1-1/4" wide, ribbed construction, choice of fliptop buckle and matching tip, size is total strap length, cut to fit
Item
Color
Size
Price
Buckle
Qty

nylon golf belt, 1-1/4" wide, ribbed construction, premium nickel buckle and tip, break-action buckle for easy, secure adjustment, size is total strap length, cut to fit
Item
Color
Size
Price
Buckle
Qty
---