Strait City Trading is closed!
No more orders will be shipped. Many thanks for your business over the years!
Men's Leather Belts, Heavy Leather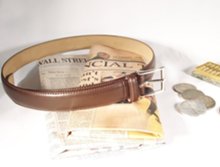 Strait City Trading's collection of inexpensive to moderately priced leather belts for men.
High quality leather belts with studs, eyelets and conchos. The pyramid stud and eagle concho belts have snap closures so the buckles may be replaced with your own 1-1/2" buckle. Click through the photos to see samples.
---