Sequins, Beads & Foil, Warm Color Stretch Belts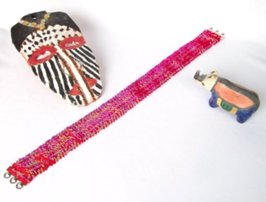 These are 2" wide sequin stretch belts with silvertone interlocking buckles. Relaxed length about 24", can stretch to about 36" without getting too tight. However, please be aware that, due to the nature of the materials used, there is some variation in these measurements.
Also, please be aware that all the sequins on a belt are the identical. The same iridescence that makes sequins glitter when moved also makes sequins appear differently to the camera when turned at different angles. Since we couldn't make the belts move, we photographed the belts on a mannequin to give some idea of the effect of movement.
The interlocking buckles come in three different styles: maxi, multi, and heart-shaped. When we have the same color in two different styles of buckle, we include pictures of both.
Warmer colored belts are displayed here.
---