Shipping Pause
Strait City Trading will not be shipping during the two weeks starting May 9th and ending May 23rd. Email and phones will be monitored. Thank you for your business.
Handbags & Purses, Big & Supple Bags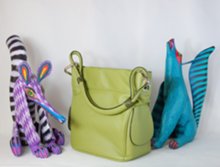 Purses, handbags, totes, and satchels.
Leather, leatherette, metal mesh, sequins and beads.
Larger bags of soft synth leather with a pronounced grain finish.

roomy square soft leatherette tote, cross-bar trunk strap ornamentation with light brass interlocking rings, slip loops, buckles and studs, double 9" drop shoulder cords, zip top
Item
Color
Size
Price
Qty
---