Shipping Pause
Strait City Trading will not be shipping during the two weeks starting May 9th and ending May 23rd. Email and phones will be monitored. Thank you for your business.
Handbags & Purses, East-West Bags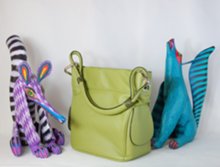 Purses, handbags, totes, and satchels.
Leather, leatherette, metal mesh, sequins and beads.
East-west bags. Smaller shoulder bags, one strap or two. Enough drop for comfortable shoulder wear and still short enough for hand carry.

teardrop baguette handbag, "cats nose" center ring with "whisker" applique, double 9-inch drop shoulder straps
Item
Color
Size
Price
Qty

teardrop baguette handbag, "cats nose" center ring with "whisker" applique, double 9-inch drop shoulder straps
Item
Color
Size
Price
Qty

east-west baguette handbag, zipper top with magnetic buckle flap, cigarette pouch at either end, 8" drop double shoulder straps
Item
Color
Size
Price
Qty

east-west baguette handbag, zipper top with magnetic buckle flap, cigarette pouch at either end, 8" drop double shoulder straps
Item
Color
Size
Price
Qty
---