Possible Shipping Delays
Strait City Trading is moving a mile down the road this week and next. We expect some shipments to be delayed during the process. Posted July 29, 2020.
Handbags & Purses, East-West Bags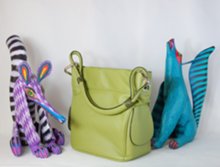 Purses, handbags, totes, and satchels.
Leather, leatherette, metal mesh, sequins and beads.
East-west bags. Smaller shoulder bags, one strap or two. Enough drop for comfortable shoulder wear and still short enough for hand carry.

teardrop baguette handbag, "cats nose" center ring with "whisker" applique, double 9-inch drop shoulder straps
Item
Color
Size
Price
Qty

teardrop baguette handbag, "cats nose" center ring with "whisker" applique, double 9-inch drop shoulder straps
Item
Color
Size
Price
Qty

east-west baguette handbag, zipper top with magnetic buckle flap, cigarette pouch at either end, 8" drop double shoulder straps
Item
Color
Size
Price
Qty

east-west baguette handbag, zipper top with magnetic buckle flap, cigarette pouch at either end, 8" drop double shoulder straps
Item
Color
Size
Price
Qty
---