Possible Shipping Delays
Strait City Trading is moving a mile down the road this week and next. We expect some shipments to be delayed during the process. Posted July 29, 2020.
Handbags & Purses, for the Open Road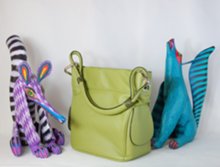 Purses, handbags, totes, and satchels.
Leather, leatherette, metal mesh, sequins and beads.
Bags for the open road. Echos of the old west with hints of saddlebags and native American motifs. These faux leather bags are especially soft and supple with an understated full grain look.

roomy tote with braided 8" drop shoulder strap; multi-sized eyelets lie in a lattice of studs and rivets with big tassel pull for top zipper
Item
Color
Size
Price
Color
Qty

large "saddlebag" hobo/teardrop shoulder bag; zip top; wide, laced 8" drop shoulder strap with chrome fastener hoop and studs; ornamental chrome corner buckles
Item
Color
Size
Price
Color
Qty
---