Possible Shipping Delays
Strait City Trading is moving a mile down the road this week and next. We expect some shipments to be delayed during the process. Posted July 29, 2020.
Handbags & Purses, New Arrivals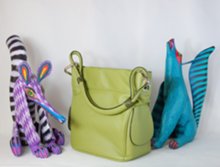 Purses, handbags, totes, and satchels.
Leather, leatherette, metal mesh, sequins and beads.
Newest purses at Strait City Trading from Vani. Featured this summer: simple, practical, attractive east-west bags and totes.

big shiny synth leather shopper tote, ornamental cinch ribbon along top with necktie tie-off and antique gold eyelets, double cord 8" drop shoulder straps
Item
Color
Size
Price
Color
Qty

medium gloss synth leather handbag, stiff, arching 10" drop double shoulder straps with spade attachments and antique gold ornamentation, short fins along edges
Item
Color
Size
Price
Color
Qty

large synth patent leather shopper, touch of goth with braided chain 9" drop double shoulder straps and pyramid studs extending along attachment supports
Item
Color
Size
Price
Color
Qty

medium gloss synth leather satchel handbag, double double rope square-knot shoulder straps with 8 inch drop, antique gold hardware
Item
Color
Size
Price
Color
Qty

glossy grain synth leather tote, golden gate top with large golden circle flap and pin latch for large front pocket, magnetically closed edge pockets, 9" drop double cord shoulder straps
Item
Color
Size
Price
Color
Qty

tall glossy synth croc frame purse, double rope double shoulder straps with 10 inch drop, big exterior magnetic close pocket on front side with nickel polish hardware
Item
Color
Size
Price
Color
Qty

glossy synth leather tote, Japanese bridge look, luggage straps and ornamental tabs accent smooth top arch, antique gold hardware, 9" drop double cord shoulder straps
Item
Color
Size
Price
Color
Qty

glossy synth leather tote, two-tier look, strong horizontal line from magnetically closed front and side pockets, ornamental cord on front with antique gold hardware, double flat shoulder straps with 7.5" drop
Item
Color
Size
Price
Color
Qty

glossy synth leather tote, tulip shaped with gathered bottom and scalloped top, golden "O" top flap, zippered edge pockets, twisted cord 10" drop double shoulder straps
Item
Color
Size
Price
Color
Qty
synth kid leather handbag, rising hobo 10" inch drop double shoulder straps with large bow tied at front edge
Item
Color
Size
Price
Color
Qty

double-handled satchel with snap-on shoulder strap, glossy marbled synth leather, 4 exterior cigarette pouches with magnetic nickel-knob flaps, 8 inch drop
Item
Color
Size
Price
Color
Qty
---