Possible Shipping Delays
Strait City Trading is moving a mile down the road this week and next. We expect some shipments to be delayed during the process. Posted July 29, 2020.
Handbags & Purses, Hardside & Kelly Bags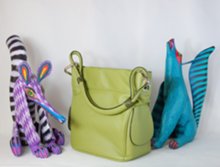 Purses, handbags, totes, and satchels.
Leather, leatherette, metal mesh, sequins and beads.
Hardside & Kelly handbags, convertible from handbags with shoulder straps; just click through photos to see! Available in a broad range of colors; check color chart for visuals.

small pink carry-all, unzip strap for backpack, zip it back for sling; interior snap close, nickel polish panther head hook, click image to see black, white and wine colors
Item
Color
Size
Price
Color
Qty

small black carry-all, unzip strap for backpack, zip it back for sling; interior snap close, nickel polish panther head hook
Item
Color
Size
Price
Qty

petite shoulder purse in solid color, nearly 8" drop on double handles with hinged attachments, detachable cross-shoulder strap, too; zipper top and little feet
Item
Color
Size
Price
Qty

petite shoulder purse in 4-square color scheme, nearly 8" drop on double handles with hinged attachments, detachable cross-shoulder strap, too; zipper top and little feet
Item
Color
Size
Price
Qty

double "G" or "O" handle hardside dress purse, zipper top with detachable shoulder strap; pictured in azure blue, click to see shoulder strap
Item
Color
Size
Price
Qty

double "G" handle hardside dress purse, zipper top with detachable shoulder strap
Item
Color
Size
Price
Qty

double "O" handle hardside small east-west purse, zipper top with detachable shoulder strap
Item
Color
Size
Price
Qty

double "G" handle hardside dress purse, zipper top with detachable shoulder strap, stitched 4-square coloring; see solid color model for more pictures
Item
Color
Size
Price
Color
Qty

double "G" handle hardside dress purse, zipper top with detachable shoulder strap
Item
Color
Size
Price
Qty

two-for-one: bracelet handle purse with clutch insert, detachable shoulder strap, dark wine grain finish stiff leatherette; zipper top
Item
Color
Size
Price
Qty

two-for-one: bracelet handle purse with clutch insert, detachable shoulder strap, grain finish stiff leatherette, four square color scheme; zipper top
Item
Color
Size
Price
Qty

small satchel handbag, sharp rectilinear lines accented with nickel polish buckles and rings, zip top and double 6 inch drop handles with detachable shoulder strap (click photo to see)
Item
Color
Size
Price
Qty

medium hoop purse with hourglass profile, circular 5-1/2" black plastic handles, zipper top with detachable shoulder strap
Item
Color
Size
Price
Qty

medium hoop purse with hourglass profile, circular 5-1/2" black plastic handles, zipper top with detachable shoulder strap
Item
Color
Size
Price
Qty
---