Shipping Pause
Strait City Trading will not be shipping during the two weeks starting May 9th and ending May 23rd. Email and phones will be monitored. Thank you for your business.
Handbags & Purses, Flaps & Snaps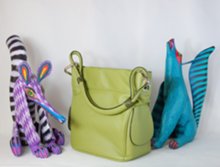 Purses, handbags, totes, and satchels.
Leather, leatherette, metal mesh, sequins and beads.
Flaps and snaps, day bags for town and travel.

magnetic flap top shoulder purse, cargo straps and buckles both horizontal and vertical, tear-drop cross-section, 8" drop double shoulder cords, interior zipped top and pouches, little feet
Item
Color
Size
Price
Qty

teardrop east-west handbag with a bit of hobo curve, hinged 9" drop double shoulder cords, brass buckles on front, cinch ties on ends, zippered top and body-side and interior pouches
Item
Color
Size
Price
Qty
---