Possible Shipping Delays
Strait City Trading is moving a mile down the road this week and next. We expect some shipments to be delayed during the process. Posted July 29, 2020.
Handbags & Purses, Clutch Wallets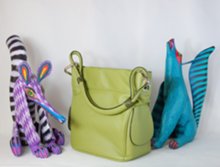 Purses, handbags, totes, and satchels.
Leather, leatherette, metal mesh, sequins and beads.
These wallets will fit in your handbag, but still hold your cards and pics; some will serve as clutches in the clutch.

scarlet red trifold east-west wrist wallet; wrist strap tucks inside or detaches; kiss-lock coin purse, cell phone pouch and credit card slots inside (click pic to see)
Item
Color
Size
Price
Qty

imperial purple trifold east-west wrist wallet; wrist strap tucks inside or detaches; kiss-lock coin purse, cell phone pouch and credit card slots inside (click pic to see)
Item
Color
Size
Price
Qty

tri-fold synth crocodile wallet, rhinestone and chrome fleur de lis on front, zipper pocket behind, magnetic clip with lots of little pockets inside
Item
Color
Size
Price
Qty
---